Junior High & Youth
We equip kids with the knowledge of the love of Christ as they explore their faith, grow in relationships with God and connect with their peers.
Thursday & Friday Evenings
Our youth program runs Thursday Evenings for Grade 6-8 & Friday Evenings for Grade 9-12. We provide a space for students to explore their faith and experience the amazing love of God.
The Junior High & Youth program is structured in three keys categories that each support the overall growth and connection of the students.
Large Monthly Events
We have a large fun event roughly once a month, in lieu of a normal youth night, to focus on creating an engaging, inviting and non- threatening environment for new people to come and be introduced to who we are. Follow us on social media to see when our next event is happening!
Weekly Gatherings
We have junior high & youth every Thursday and Friday evenings at 6:30 p.m. to gather, worship, teach, equip, and connect. These nights usually consist of games, a message and small group time; although we often mix up the feel or structure from week to week.
Small Group Time
We also have focus on small group time with a specific leader dedicated to each gender and age group. Currently, we have four small groups, each who hangout as groups on a regular basis. We have seen great success with the depth in relationships through this.
Sunday Mornings
We encourage students to join us for Sunday service at Emerge Church or their own home church. We believe in the importance of being a part of the bigger body of Christ.
Sam & Jordan Krause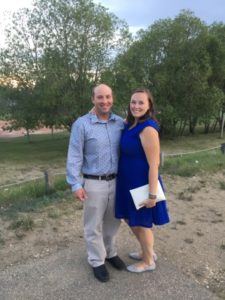 Ashley Butcher

Sam and Jordan have been a part of Emerge Church, since their childhood. They are proud to call this church their home.
Newly weds and living in Sylvan Lake, they plan to start a family here and to be continuously active in the church. They desire to impact each young person's life by helping them develop a lasting relationship with Jesus through discipleship.

Ashley Butcher has been actively involved in ministry for 5 years. She resides in Sylvan Lake with her husband Tyler, and her 3 children Tayven, Neveah, and Daxton.
Ashley is excited to lead the Senior High youth, and help them discover who they are in Christ.